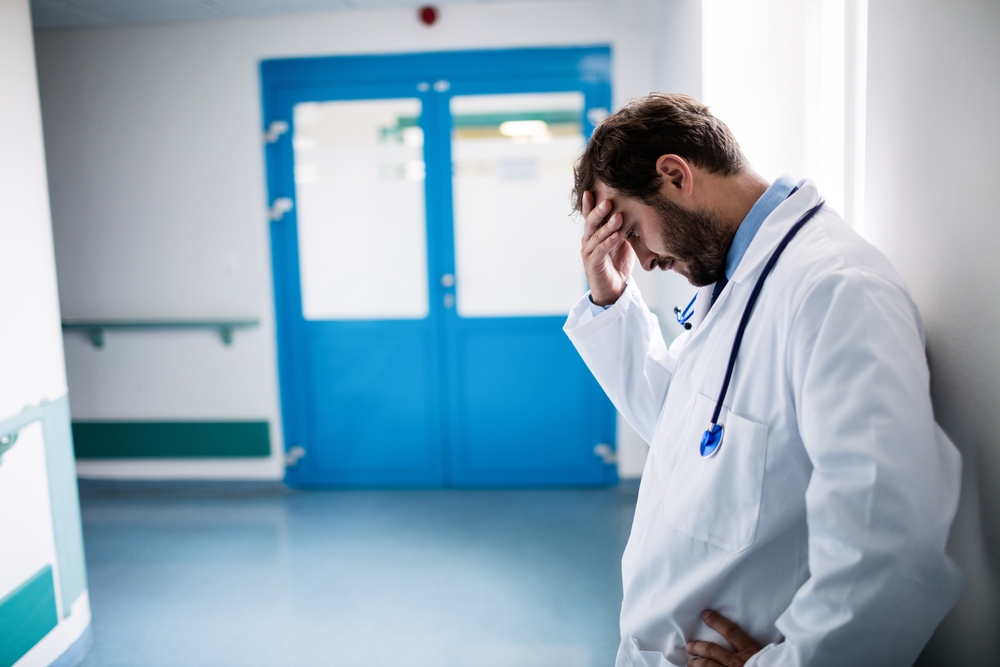 October 29 is World Stroke Day.
Cerebrovascular diseases are firmly in the top three among all the causes of death among Chinese residents, and have been getting younger recently. The theme of this year's Stroke Day is [to pay attention to the stroke risk of middle-aged people].
Are you middle-aged?
The publicity and establishment of Stroke Day is to appeal to the public to increase their understanding and attention to stroke. However, as the backbone of the medical system, who will pay attention to the cerebrovascular health of our medical staff?
Are there still few stroke doctors?
On January 11, 2015, Professor Lu Kaiwu, Chief Physician of Spinal Surgery of Southern Hospital of Southern Medical University, died of sudden cerebral hemorrhage on his way to Hefei, Anhui Province to help the grassroots. He was only 47 years old, which was the golden age of surgeons.
On July 30, 2015, Nie Haiyang, an orthopaedic doctor from Chibi City People's Hospital, explained to the patient on the morning after the night shift that he had a sudden brainstem hemorrhage during the preoperative preparation and fell to his desk. After 2 days of rescue, he died after ineffective treatment. He was only 45 years old.
On February 13, 2016, Fang Lei, a 32-year-old female doctor in the Department of Stomatology of Harbin No.4 Hospital, suffered a sudden stroke. During the treatment, Dr. Fang woke up from a coma and was still thinking [call the director, I can't work the night shift tonight].
On May 31, 2016, Song Wei, a refresher doctor in the Department of Burns of Changhai Hospital, suffered a sudden brain stem hemorrhage and died on June 15. He was only 34 years old. After Song's death, his family donated kidney, liver, lung, cornea and skin according to his wish.
On June 30, 2016, Professor Jin Dan, Chief Physician of Traumatic Orthopaedic Department of Southern Hospital of Southern Medical University, died suddenly in his dormitory. It is speculated that the cause may be cerebrovascular accident. He was only 45 years old.
…… Who will be next?
Doctors are a real high-risk group for stroke.
At the end of last century, Stroke magazine of the American Heart Association (AHA) published a study. Researchers followed 21,823 physicians. During the 11-year follow-up period, 533 people had stroke, 437 of which were ischemic stroke [1].
Professor Xu Dingli's team from the Southern Hospital of Southern Medical University also conducted a meta-analysis, and the conclusion was published in Neurology, a well-known journal in the field of neurology. This study points out that high work stress will lead to a significant increase in stroke risk, and the correlation with ischemic stroke is more obvious [2].
Nearly half of doctors take part in exercise once or less a week-although every doctor knows the positive effect of physical exercise on cardiovascular protection.
The average BMI of doctors exceeds 24-although every doctor knows that obesity and dyslipidemia are one of the risk factors most closely related to cardiovascular and cerebrovascular diseases.
High work pressure brings doctors not only a sense of accomplishment in curing diseases and saving lives, but also sleep disorders, irregular diet, smoking and metabolic syndrome.
Doctors don't have holidays, and it's not a day or two.
Clove Garden once conducted an investigation.
The labor law requires working five days a week, eight hours a day and a total of 40 hours a week. However, only 3.3% of doctors can guarantee to work within 40 hours a week. However, 36.6% of doctors work more than 60 hours a week.
More than 70% of all doctors work night shift at least once a week. However, doctors still have to face full work and no breathing space the day after the night shift.
It is also the norm for doctors to change double breaks into single breaks and long holidays into weekends.
Doctors have no holidays, and it is not a matter of two days a day. China's doctor resources have always been scarce: the number of patients Chinese doctors have to face and the number of beds they need to manage are far higher than those of their capitalist counterparts we envy.
-If only this could be solved by shouting [owe us a holiday].
The person who knows the best about physical health.
Even if the body is healthy at ordinary times, there are countless bombs buried in the doctor's body. Stroke is only a small part, and there are more sudden cardiac death or other sudden diseases. I do not know when these problems will suddenly explode, leaving my colleagues with consternation and sigh.
On this day of [paying attention to the stroke risk of middle-aged people], doctors should first pay attention to themselves, which have been neglected for a long time.
If there are signs of discomfort, ask for leave and rest. If hypertension, hyperlipidemia and chronic diseases are found in physical examination, please ask colleagues to have a diagnosis and make a treatment plan. If everything is normal, don't forget to ensure sleep, three meals a day, exercise every day…
After all, a living doctor is a good doctor.
Copyright of Clove Garden. No reprinting is allowed without permission.
Photo Source: Station Cool Hailuo Creative